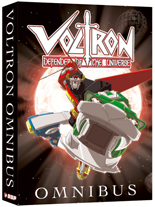 SYNOPSIS:
An unbelievable legend thought lost forever ...

Five mythical and technological ships that combine to form the greatest defender the universe has ever known… A desperate journey to recover these lost wonders takes five men from Earth and into a galactic war that threatens to consume all! Witness the rise of VOLTRON and the Voltron Force!

Collects every issue of both volumes of the spectacular series into one incredible volume! FINALLY! The long-awaited 12th issue of the series printed here for the first time!

WRITERS: Marie Croall, Dan Jolley, Mike O'Sullivan, and Mark Waid
PENCILLERS: Mark Brooks, Ryan Brown, Clint Hilinski, Alitha Martinez, Mike Norton, Clement Sauve, and E.J. Su
INKERS: Clayton Brown
COLORISTS: Barbara Bargiggia, Danimation, Ben Hunzeker, Nate Lovett, Frederica Manfredi, David Messina, Jeremy Roberts, and Brett R. Smith of Color Fusion
COVER: Kaare Andrews

Originally published in March 2008

The Omnibus was originally scheduled to be released in January of 2008 but was pushed back to March for unknown reasons.


There is a goof in the Omnibus -- several pages from Vol. 2, Issues #3 & #7 are in the wrong order! Despite these glaring errors, Devil's Due have no plans to fix the Omnibus.